9 Breakfast Smoothies Plus 3 More Super-Healthy Breakfast Ideas
One of the biggest factors that may hinder your efforts when trying to lose weight or eat more healthfully is time management.
Mornings in particular seem to be a challenge as this is the time you may feel the most rushed. As you wake up in the morning and continue to push the snooze button for that additional five minutes of sleep you may be sleeping away the most important meal of the day. Instead, you can start your day off right with super food smoothies as a healthy breakfast.
With the right planning, it is really  quick and easy to start your day off right with a breakfast smoothie. Simply keep a supply of fresh greens, vegetables and fruits always available, throw those you want each morning in the blender, and enjoy a quick and simple breakfast at home or on your way out the door. You'll find that mornings start better with a delicious morning smoothie. Here are some tips to make it easier for yourself:
1. Prepare your ingredients in advance. If you know you are going to be in a rush, prepare the ingredients ahead of time. One way to do it is to use resealable plastic bags or containers to keep the exact ingredients for a smoothie. Put 2-4 cups of greens, the fruits of your choice (pre-cut and de-pitted if necessary), as well as veggies; sprinkle with some lemon juice to prevent browning (especially, when using avocado, apples or pears), and add any grains, nuts and seeds that you want, close the container or seal the bag, and place it in your fridge. You can prepare ingredients for a couple of days of smoothies. Then, when the time comes, you'll only need to take the bag/container out of the fridge, transfer them to your blender, add liquid, blend, and you're ready to go.
2. Add some superfoods for extra boost. It is a good idea to have a nice handful of a few of your favorite superfoods on hand for when you want to boost your blends. You do not need ALL the superfoods out there, just a few. I think 3-5 is a good number. Here are a few examples: spirulina powder, maca powder, goji berries, cacao powder, cacao nibs, hemp seeds, flax seeds or oil, chia seeds, acai powder, mesquite powder, lucuma powder, wheatgrass powder, superfood blends, green tea powder (matcha) and more. Choose a few and experiment with boosting the nutritional wellness of your blend.
3. Invest in a portable bottle and super-wide straws. This way you'll be able to take your smoothie with you. You may choose a translucent bottle, or one that conceals the color of your drink.
Breakfast Smoothies to Start Your Day Right
1 peach (pit removed)
1 banana
2 cups spinach (or other leafy greens or sprouts)
1/2 cup water
Blend all ingredients until smooth and creamy.
How about pina-colada-type smoothie for breakfast? This pineapple smoothie will make you smile all day!
1 cup fresh pineapple, cut into pieces, or frozen pineapple chunks
1 cup strawberries, fresh or frozen
1 ripe banana (optional)
2 leaves of spinach or other leafy greens
1 cucumber, peeled and/or 2 stalks of celery
a piece of fresh ginger (optional, it gives the smoothie nice "zing" that I love)
1 cup water (more or less, to desired consistency)
This winning combination of limes and oats creates a smoothie that's both filling and refreshing.
2 cups non dairy milk (use whatever you like or have in your kitchen: oat, rice, soy, almond, hemp, coconut, etc. )
2 bananas, fresh or frozen.
2 cups leafy greens (spinach, Swiss chard, kale, etc.)
1 handful of parsley
2 tablespoons sunflower seeds (or other seeds or nuts that you have). Pre-soaking your seeds and nuts is recommended, but not required.
¼ cup of dates (or any other dried fruit)
1 cup oats
Juice and zest of 4 limes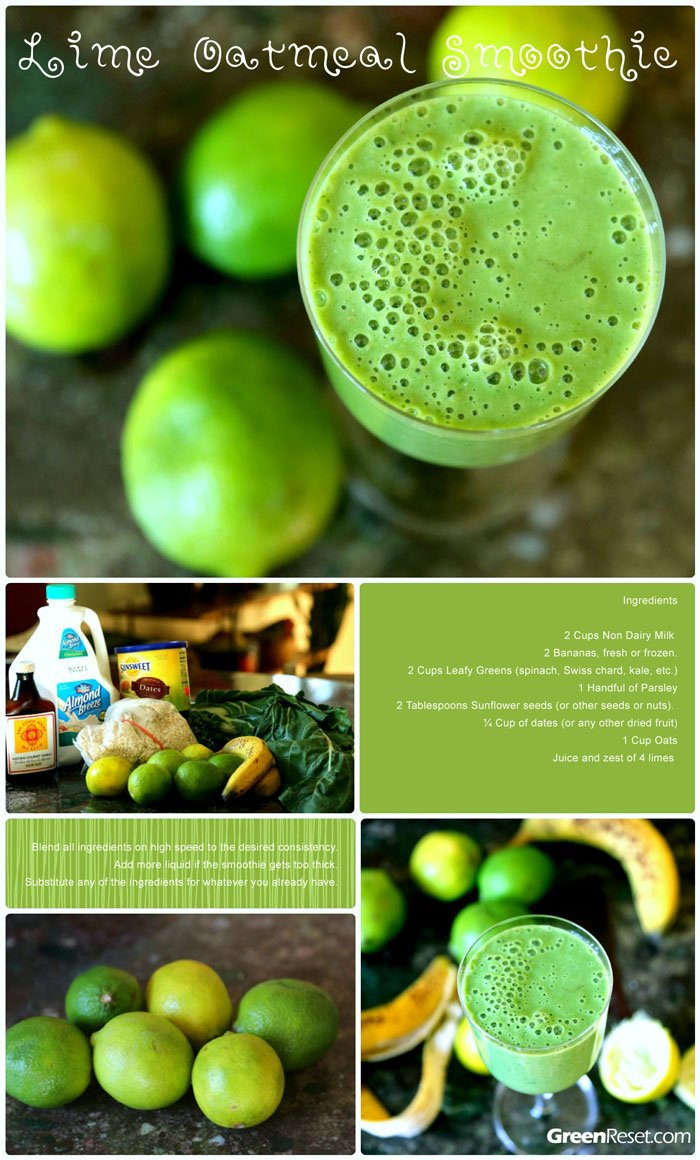 1 1/2 cup mixed berries (I use frozen mix of strawberries, raspberries, blueberries and blackberries)
2 or 3 celery stalks
2 bananas (you can use less if you want a less sweet smoothie)
a slice of ginger root (optional, it gives the smoothie a little tangy kick)
1/4 avocado (optional, for more creaminess)
2 cups kale or other leafy greens (optional)
1 cup water (or a little more, depending on how thick or thin you like it)
Spinach-Mango Green Smoothie
1 large banana, ripe
1 cup mangoes
1/2 cup strawberries
5 oz spinach
1 1/2 cups water
4 cups organic baby spinach or other leafy greens (you may use less if you are just starting up with green smoothies)
1 cup pomegranate seeds or juice
1 cup blueberries, frozen
1 cup strawberries, frozen
3 dates, cut in half (optional)
2 tablespoons flaxseeds, ground
1/2 avocado, optional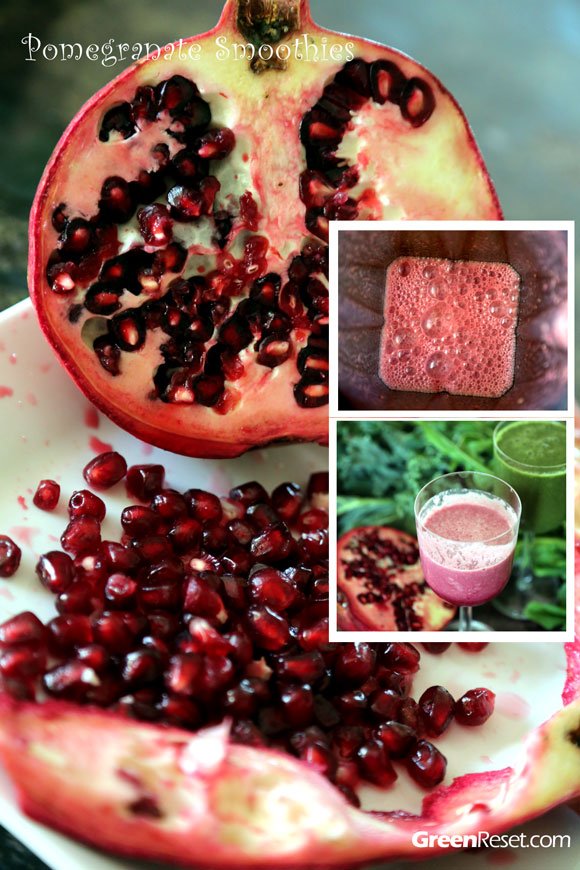 1 large orange, peeled or two small tangerines (seedless)
1 cup kale or spinach (or any variety of greens you have- collards, chard, arugula, parsley)
1/2 small avocado
1/2 cup apple, chopped
1 cup coconut water, grapefruit juice or water, chilled
1/2 cup ice or frozen grapes
1/2 banana (optional, adds creaminess)
1 Tbsp lemon juice
Version #1 with Non-Dairy Milk
2 ripe mangoes, pitted, peeled and roughly chopped, or 2 cups frozen mango chunks
1 cup vanilla non-dairy milk, such as almond, flax, or soy
1 cup light coconut milk
1/2 cup ice cubes (optional)
1/2 teaspoon ground cardamom (optional, to taste)
Version #2 with Cashews
2 ripe mangoes, pitted, peeled and roughly chopped, or 2 cups frozen mango chunks
1/4 cup cashews
2 cups water
4 small dates, pitted
1/2 teaspoon ground cardamom (optional, to taste)
1/2 cup ice cubes (optional)
If using cashews, start by blending them with water until smooth.
Add all ingredients to your blender, and blend until creamy.
You may need to add a bit more water or milk, depending on how thick you want your lassi to be.
Pour into a glass, sip, and smile!
The benefits of a smoothie in the morning include:
Super nutrition to jump start your day. For many people, breakfast is the most important meal of the day. Not only does a good breakfast provide needed nutrition for your body, it can actually jump start it by increasing your energy level and increasing your metabolism to encourage it to work more effectively. If you are trying to lose weight, not eating breakfast may sabotage your efforts. Although some people do well on little or no food in the morning, for most of us having meal at breakfast time can actually help to encourage weight loss. A super food smoothie in the morning floods your body with essential vitamins, mineral and phytonutrients that will not only satisfy hunger but provide the fuel for your body's systems to work at their best.
Super quick and easy to make. With the needed ingredients on hand you simply need to add them to a blender in the morning and within only a few minutes you'll have a nutritious smoothie full of essential vitamins and minerals as well as full of flavor.
Smoothies are very portable. Simply pour the smoothie into a travel save mug or container and drink it on your way to work. For those who spend the last minutes of the morning sleeping you'll find that smoothies are a great way to reclaim breakfast.
Smoothies fill you up. Because super food smoothies have high quality ingredients you will find that beginning your morning with one will make you feel fuller longer. You'll be providing your body with all of the nutrients it needs to have the energy to make it through the morning.
Other Healthy Breakfast Ideas
If you are still hungry after your smoothie, or would like something different than a blended drink, here are some other healthy choices for breakfast:
Oatmeal is one of the easiest breakfasts to prepare. It's also one of the cheapest and healthiest (find out more about health benefits of oatmeal here). I like to use the quick-one-minute rolled oats for a quick, no-cooking-required healthy breakfast. I soak them for a few minutes in almond or soy milk, and toss in some dried fruit, nuts and seeds for even more nutritional benefits.
This may not seem like a quick breakfast idea, but it can be – if you prep your veggies in advance. Whenever you are not in a hurry, e.g., when you are cutting vegetables for a soup for dinner, cut some extra veggies and save them in a container in your fridge for later. Then, in the morning, simply heat a thick bottomed pan, add the veggies with a few tablespoons of water, some spices (I like to add a french herb mix – which contains majoram, thyme, and other herbs, as well as some cumin, and tamari sauce), and saute the vegetables for a few minutes. You can even leave them on the stove – on low heat, covered keep water from evaporating and prevent burning, while you are getting dressed.
Here is the recipe for a veggie-tofu scamble. You can skip tofu and simply sautee vegetables, such as onions, mushrooms, zucchini, peppers, tomatoes, spinach and other.
Egg Free Pancake Recipe

Egg-Free Pancake Recipe
---
For all my blending recipes I use Vitamix. If you don't already own a VitaMix, I strongly encourage you to check out what this machine is capable of! For more information about VitaMix you can go directly to the VitaMix website. You may also want to read my post about the Best Blender.
I LOVE my VitaMix and highly recommend investing in one if you are ready to make serious changes to your diet. I have had mine for almost 5 years and use it daily!
If you decide to purchase Vitamix – be sure to use Promotional Code 06-004554 to get free shipping.
---
---
Questions? Comments? Suggestions?
If you have a favorite recipe, why not submit it here in the comment section of this green smoothie and healthy recipes blog for others to enjoy too!
I also welcome any comments, questions and suggestions. Thanks!