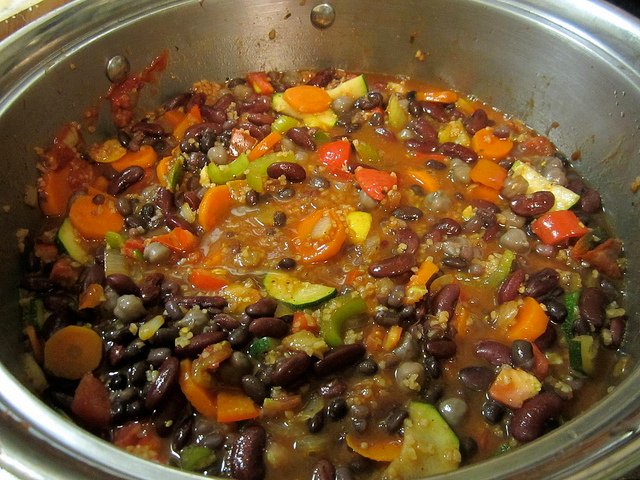 Easy Chili: You're Going To Love This Meat-Less Chili Recipe!
Many people love chili, and this is a healthy, vegan version of this dish.
Chili is always a great idea to bring to a potluck, since it's easy to whip up a large batch, plus you can freeze any leftovers. You can make batches of this chili recipe and take it to work for lunch for the week. It's even better the next day!
If you own a slow cooker (I don't), then this is a great recipe to use. Slow cookers and chili making just go hand in hand :-).
But even if you don't have one, it's easy enough to prepare; although it's going to take much longer, compared to most recipes you find on this site. It also has a long list of ingredients.
Don't let that discourage you!
This chili is SO easy to make. You can pretty much throw whatever you have into the pot and it'll be great. It's very colorful, filling, not to mention delicious and good-for-you.
[tabs slidertype="top tabs"] [tabcontainer] [tabtext]Main Dish Recipe[/tabtext] [/tabcontainer] [tabcontent] [tab]
Easy Vegetarian Chili Recipe
Makes 6-8 servings
1 cup chopped onions
4 garlic cloves, finely minced
1 cup chopped carrots
1 cup chopped celery
3 cups cooked beans: e.g, lentils, kidney, lima
1 28-ounce can crushed Italian plum tomatoes
2 tablespoons chili powder
2 teaspoons ground cumin
1 teaspoon ground coriander
1 teaspoon ground cinnamon
salt and freshly ground black pepper to taste
1 cup water
Optional Ingredients:
1 cup chopped fresh mushrooms
1/2 cup bulgur wheat
1 cup corn kernel
1 red pepper, diced
1 yellow pepper, diced
1 zucchini, diced
2 tablespoons cilantro, chopped
1 14 oz package of firm or extra firm tofu, crumbled
If you like sipcy, add 5 garlic cloves, 3 chipotle chiles, a habanero chile, and/or jalapeño, minced
Preparing the beans
For color and variety, add a couple of cans of different beans – chickpea, garbanzo, red kidney, black, adzuki, white cannellini, etc.
You may use canned or precooked beans, or simply prepare the beans the day before.
If using dried beans, rinse all the beans and remove any grit. Place them in a large pot and add enough cold water to cover by 2 inches. Let stand for 6-8 hours. Drain, return the beans to the pan, and cover them with fresh water. Bring to a boil, reduce the heat to a simmer, and cook until the beans are tender but not falling apart, 45-60 minutes. Drain.
Putting It Together
In a thick-bottomed pot, saute the vegetables and garlic with 2-3 tablespoons of water (or a splash of olive oil) over medium heat. Add the chili powder, cumin, coriander, cinnamon, and cayenne pepper. Cook the vegetables in the spices, about 5 minutes. Season with salt and pepper. Add the tomatoes, water, corn, bulgur wheat (if using), and beans. Bring to a simmer and cook until the bulgur is tender—about 10 minutes.
If using slow cooker, you still need to pre-cook the beans. The only drawback with a slow cooker for me is that I don't get to taste the dish while it's cooking for seasoning. But, it's easy enough to check your seasonings after the first hour of cooking and adjust as needed.
Ladle chili into bowls. Top with chopped cilantro, green onions, or diced avocado or whatever else you enjoy.
[/tab] [/tabcontent] [/tabs]
Why Meat-Less Chili?
Why bother to change a perfectly tasty meat chili recipe to a vegan version?

Better for health is one reason. Eating a diet rich in plant-foods and low in animal products has been proven time and time again to help prevent many diseases, including heart disease and cancer. Throughout the world, consistently, people who eat a vegetarian diet, or a diet with only minimal amount of animal protein, live the longest and are the healthiest.
Better for environment and my conscience. Aside from our own health, there are also other reasons to eat less meat: reducing environmental destruction, using fewer resources, and compassion for sentient creatures that are living and dying in terrible suffering.
Read what finally convinced me – at almost 47, to make the switch to vegan diet, and how much protein do we really need.
Questions? Comments? Suggestions?
If you have a favorite recipe, why not submit it here in the comment section of this smoothie recipes blog for others to enjoy too!
I also welcome any comments, questions and suggestions. Thanks!