Chocolate Mousse: Easy & Elegant Recipe For Quick No-Bake Dessert
Chocolate mousse is one of the easiest desserts to make. This one is made from chocolate and tofu, so it's lower in fat and calories than the chocolate avocado mousse I posted before.
Yes, you can make a rich and creamy vegan chocolate mousse from tofu! Chocolate mousse made with silken tofu is rich, deeply flavored, velvety and tastes just great.
Just dress it up with fresh fruit, such as strawberries or bananas, cashew cream, shredded coconut or crumbled vegan cookies on top, and you have an elegant dessert to serve to your guests!
Also, check out the strawberry mousse recipe for another variation on the healthy desserts theme.
Silken tofu chocolate mousse
Chocolate Mousse (with Tofu)
Ingredients
1 packet silken tofu, drained (14 ounces)
1/2 cup cocoa powder (sweetened)
1/4 cup vanilla soy milk, or other non-dairy milk of your choice
Instructions
Place all the ingredients in a blender or food processor and puree until creamy.
Pour the mousse into parfait glasses or individual dessert bowls and chill.
Notes
Optionally, you may use carob powder for part of the chocolate. If using unsweetened cocoa powder, add a few tablespoons of brown sugar.
http://greenreset.com/chocolate-mousse-recipe/
Optional ingredients:
120 grams high quality dark chocolate, broken into pieces
2 tablespoons port (such as Grand Marnier)
1/2 cup chocolate chips
garnish with finely chopped chocolate, or another 2 tablespoons chocolate chips
If using dark chocolate or chocolate chips, melt the chocolate first. Place a heatproof bowl over a pot of simmering water and melt the chocolate with milk, water, and sugar stirring occasionally. OR microwave chocolate in 30-second increments, stirring each time, until melted. Once melted, blend with tofu and the rest of the ingredients
Scoop mixture into four serving dishes, and refrigerate until chilled, about 30 minutes. Garnish desserts with finely chopped chocolate or chocolate chips, if desired.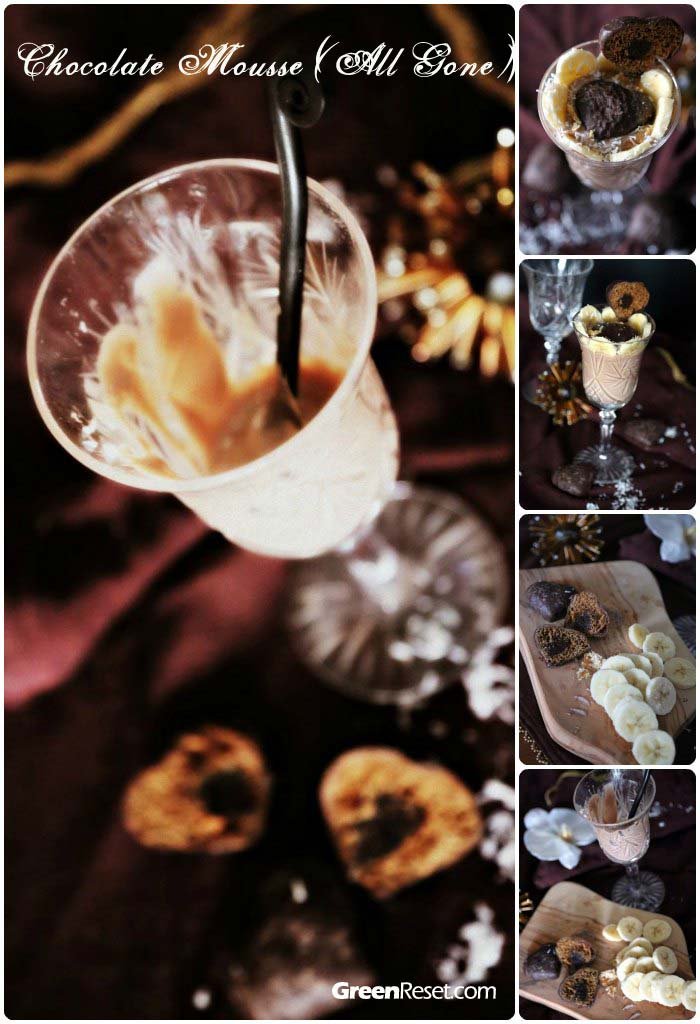 On its own, silken tofu has almost no flavor (or, tastes slightly chalky, depending on the variety and whom you ask;-)), but blended (or cooked) with flavorful ingredients, it can take on a myriad of flavors.
By the way, you might have read various scare articles on the Internet about soy (usually based on misleading articles from the Weston A. Price Foundation) but they're misinterpretations of science. Soy is a healthy food, just like other beans and legumes, and most people can eat it safely (some people are allergic to it). I eat soy in moderation and try for whole soy in natural forms (tofu, tempeh, soy milk). Just make sure you buy organic or GMO-Free soy products.