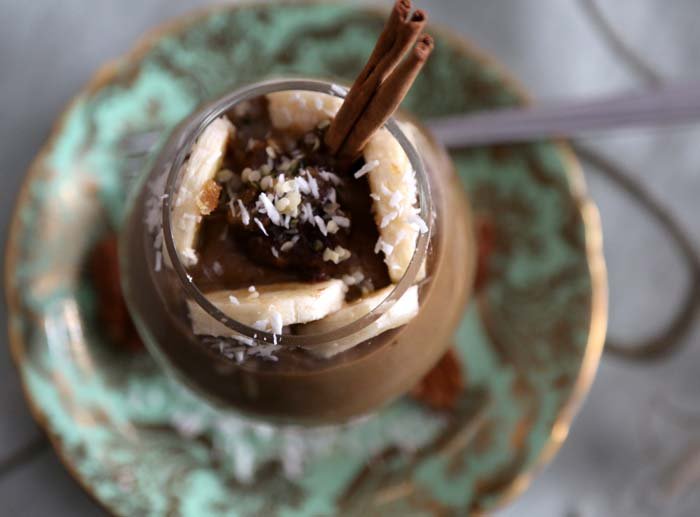 Easiest Ever Chocolate Mousse: Delicious, Guilt Free Recipe (Vegan, with Avocado)
Chocolate mousse is a great dessert that doesn't take a long time to prepare (this version, literally takes less than 5 minutes). Plus it's great for entertaining because 1) it looks pretty, 2) it's delicious, and 3) you can make it ahead of time.
The recipe that I'm about to share with you has to be one of the easiest and most satisfying desserts around.
How to make the easiest ever chocolate mousse
This Creamy Chocolate Avocado Mousse is rich and decadent. Silky texture and deep chocolate flavor in every spoonful. And you won't believe how easy it is to make, with just two base ingredients, plus a few optional to be added as you wish.
Now, when most people think of avocado, a sweet desert will most likely be the last dish to spring to my mind.
So, if you are skeptical about putting avocados and chocolate together, it's understandable. However, no worries! One spoonful and you will understand why many people rave about chocolate avocado mousse recipes.
When I made this recipe and dressed it up for the picture, my son wanted to try it immediately. After he did, he said: "You made this? You should be working in a restaurant!" :-).
As I said, avocado-based mousse is guilt-free because because it only contains healthy ingredients.
However, it doesn't mean it's calorie-free or fat-free, since avocados are quite high in calories and fat (I said guilt-free, not calorie-free ;-)).
Easiest Ever Chocolate Mousse Recipe
Easiest Ever Chocolate Mousse
Ingredients
1 large avocado (3/4 - 1 cup mashed)
1/4 - 1/3 cup vegan hot cocoa mix (sweetened)

Optionally add:

a pinch of salt
a few drops of vanilla extract

You may keep it super simple and just serve the mousse as is. Or build a mousse parfait!

Here are your optional ingredients:

dark chocolate chips or chocolate shavings
shredded coconut
pecans, walnuts, or other nuts, chopped or whole
freshly grated orange zest
cinnamon or nutmeg
sliced banana
sliced strawberries
whole blueberries or other berries
crushed vegan cookies or grahams
brown sugar
drizzle of agave or maple syrup
cashew cream, soy or coconut whip on top
Instructions
Mash up avocado with hot cocoa mix. Process in a food processor until smooth with a pinch of salt and a few drops of vanilla.
Serve in pretty glass containers decorated with slices of banana, chocolate chips, coconut flakes, or whatever else you have in your pantry!
http://greenreset.com/chocolate-mousse/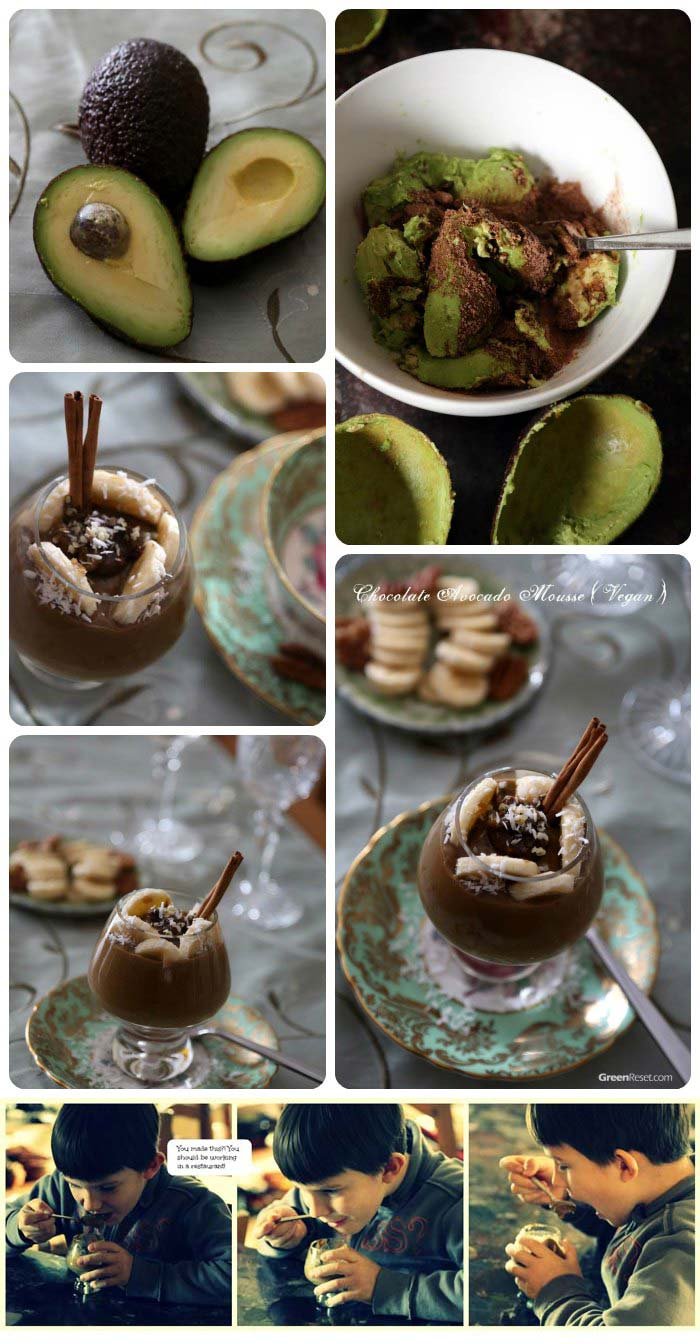 I hope you enjoy it as much as we did!
Try it on Sunday, Monday, Thursday or Friday :-). (Or any other day, really). It's completely up to you!
Now, there are people who insist that avocados have no place in the dessert; they claim that they can still taste it no matter how much chocolate and other ingredients they add, and that this is not acceptable. If that's you, I have another version of chocolate mousse recipe, with another surprise ingredient….