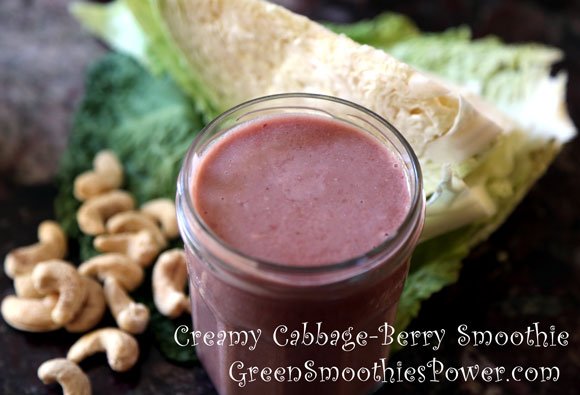 Creamy Cabbage-Berry Smoothie
Cabbage is probably one of the last ingredients on people's minds when they think about what to put into a smoothie.  Yet, with the right cabbage smoothie recipes, cabbage can be a part of many delicious drinks.
I admit that I have been avoiding cabbage for a long time as ingredient in green smoothies, as I thought that cabbage would have had a strong, overpowering flavor.
When I finally mustered up the courage to add some green cabbage to my strawberry banana smoothie recipe, my reaction had been: "Wow!" It was really delicious and I could hardly taste it.
In fact, I liked it so much that although usually, I recommend beginners to use spinach and lettuce in their green smoothies, from now on cabbage will be on the beginner green smoothie list as well! You can incorporate several cups of this veggie into a smoothie and hardly notice the green taste!
A great advantage of cabbage is that – unlike other leafy greens – it stays fresh for a long time.
If you ever went to your fridge looking for great ingredients for your green smoothie, and all you could find was a bunch of sorry looking, wilted greens, I'm sure you will appreciate having a backup plan – a head of cabbage stashed in your fridge for such emergencies.
Fresh whole cabbage will keep in the refrigerator for one to six weeks depending on type and variety. Hard green, white or red cabbages will keep the longest while the looser Savoy and Chinese varieties need to be consumed more quickly. It is necessary to keep the outer leaves intact without washing when storing since moisture hastens decay. Peak season for most cabbages runs from November through April.
Choose cabbage that is heavy for its size with leaves that are unblemished and have a bright, fresh look. Whole cabbages are preferred whenever possible as pre-cut or preshredded cabbage has a greatly diminished vitamin content.
Plus, cabbage changes the color of the smoothie very little, so, for example, if you add strawberries or raspberries to the mix, the result will be a brilliant red smoothie. Incredible!
This is nice for picky eaters who are suspicious of any shade of green in their food.
What's more, you can also use red cabbage to add a brilliant purple to your "green" smoothie, although it does seem to have a stronger taste than green cabbage.  Green is great, and purple is powerful!!
Health Benefits of Cabbage
It has many benefits: it's low in calories, low glycemic index, it's cheap, available year-round where I live, plus it's really good for you. A great reason to add cabbage to your smoothies instead of cooking it is that raw cabbage has shown greater cancer-protective benefits in studies over cabbage that has been thoroughly cooked.
Cabbage provides fiber, vitamins A, C, K and B6, folate, potassium, manganese, thiamin, calcium, iron and magnesium. Red cabbage is also a great source of vitamin A (as beta-carotene), C and K. It is also loaded with ironm manganese and anthocyanins.  Anthocyanins, a very powerful antioxidant, gives foods their deep blue – purple shade and researchers believe responsible for lowering heart disease and cancer risks, along with inflammation, and even has anti-aging benefits.  Blueberries have the highest concentration of anthocyanins, but they are also present in purple grapes, cherries, and purple cabbage.
It also allows you to incorporate this food item into the diet of those who claim to dislike it, like my son. For example, my son doesn't like cabbage at all, so this is one of the few ways I can sneak it into his food.
Top Tips For Using Cabbage in Green Smoothies
#1 Blend Cabbage First
You may find that cabbage blends best if blended first with just the liquid. Then add the rest of the ingredients and blend again until completely smooth.
#2 Refrigerate or Freeze the Cabbage
I find that refrigerating seems to tame down the flavor of the cabbage a bit. You can even try freezing it in before blending – I haven't tried that personally, but I know it works for some people. This will allow you to disguise the taste of cabbage in your "green" smoothies for your family and friends even easier. Plus, freezing your ingredients may also help you save money, because you will not waste any leftover cabbage pieces.
#3 Blend with a Piece of Fresh Ginger and/or Lemon
If you are can still taste the cabbage and you want to disguise the flavor even further, add some lemon or ginger – I find that they are excellent when it comes to adding this special "zing" to any smoothie.
A slice of lemon along with the peel, to brighten. I love citrus, and just love the flavor it gives to water, and tea so adding a slice to my smoothie seemed like a good idea.
#4 Add Bananas or Avocado for Creaminess
Adding very ripe banana (fresh or frozen) gives this smoothie a creamy, smooth texture and is a great source of vitamin C, manganese, fiber and potassium.  If you want to avoid banana because of blood sugar issues, add a piece of avocado instead.  Plus, it will give you this healthy fat boost to enhance the absorption of nutrients.
# 5 Chocolate covers up the cabbage flavor really well also.
That's right… I said chocolate. Stay tuned for the chocolate recipe, but now, without further ado, let's try this Creamy Cabbage-Berry Recipes. It's totally satisfying and really quite amazing!
Creamy Cabbage-Berry Smoothie Recipe
Creamy Cabbage-Berry Smoothie Recipe
Ingredients
2-4 cups of cabbage, green (you can start with less if adding too much cabbage at once makes you cringe)
2 cup strawberries or mixed berries, frozen
2 bananas
a handful of cashews
1 1/2 cups water or non-dairy milk

Optional Ingredients

Raw almonds or 2 teaspoons raw almond butter can be used in place of cashews
1 teaspoon stevia (you can replace with sugar or orange juice)
Instructions
Blend the water, cabbage, and cashews (if using) first. Then add the rest of the ingredients on HIGH and blend until very smooth.
http://greenreset.com/creamy-cabbage-berry-smoothie/
---
For all my blending recipes I use Vitamix. If you don't already own a VitaMix, I strongly encourage you to check out what this machine is capable of! For more information about VitaMix you can go directly to the VitaMix website. You may also want to read my post about the Best Blender.
I LOVE my VitaMix and highly recommend investing in one if you are ready to make serious changes to your diet. I have had mine for almost 5 years and use it daily!
If you decide to purchase Vitamix – be sure to use Promotional Code 06-004554 to get free shipping.
---
---
Questions? Comments? Suggestions?
If you have a favorite recipe, why not submit it here in the comment section of this smoothie recipes blog for others to enjoy too!
I also welcome any comments, questions and suggestions. Thanks!