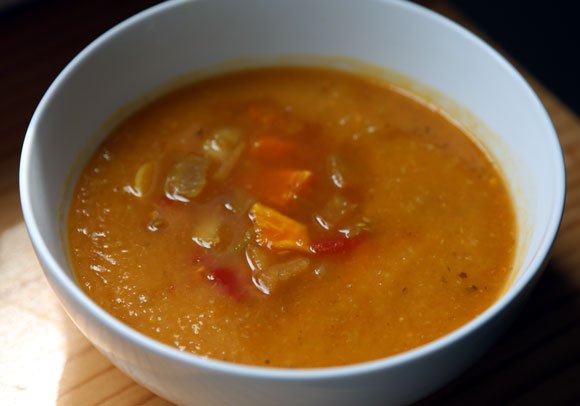 Curried Sweet Potato Lentil Soup (or Stew) Recipe
I love making big pot of thick soup a few times per week. They are rich, filling, and very satisfying; full of good-for-you ingredients, and are easy to make – just chopping, no advanced cooking skills required!
This is recipe for a sweet potato and lentil stew, with an eggplant twist.
I've been making a variation of this recipe for the past couple of weeks, and I don't get bored of it. One reason is that I can never follow a soup recipe exactly as it's written – I always, always experiment (just as with green smoothies), depending on the contents of my fridge.
This time it was eggplant. I don't buy it often (as I don't know many good recipes that use eggplant as ingredient and it often gets wasted), but this time I bought two locally grown eggplants at BJ's (to support local farmers) and I decided to turn one into a soup.
Since none of the eggplant soup recipes sounded enticing, I thought, why not add it to a curried sweet potato-lentil combination. My son usually loves soups that have sweet potatoes (or any winter squash) in it, so I was hoping that he will eat it too.
It turned out delicious!
[tabs slidertype="top tabs"] [tabcontainer] [tabtext]Soups and Stews[/tabtext] [/tabcontainer] [tabcontent] [tab]
Sweet Potato-Eggplant-Lentil Soup (or Stew) Recipe
Makes 8-12 servings
Ingredients
2 tablespoons olive oil (or other cooking oil), optional
1 medium onion, diced
2 small tomatoes, diced
1 tablespoon curry powder
1 teaspoon minced fresh ginger
1 teaspoon cumin
1 teaspoon ground coriander
1/4 teaspoon ground cinnamon
sea salt to taste
2-3 medium sweet potatoes, peeled and cut into ¾" cubes
1 small eggplant, peeled and cut into ¾" cubes
1/2 package dry lentils, rinsed and picked through
7 cups water
1 cup finely chopped fresh cilantro leaves
Preparation:
Heat the oil over medium heat in a large, deep pot. Add the onion and cook, stirring frequently, for two minutes or until the onion starts to soften. For fat free cooking, skip the oil and add 2-3 tablespoons of water.
Stir in the curry, cumin, coriander, cinnamon, and a small pinch of salt. Stir in the tomatoes and ginger and cook for three minutes. Cook and stir for two minutes, then taste for seasonings; try to use only enough salt to heighten the flavors.
Add the chopped sweet potatoes, water, and lentils. Stir well, and bring to a boil over high heat. When the mixture comes to a boil, reduce the heat, cover, and simmer for 40 minutes or until the lentils and sweet potatoes are soft.
Blend in a blender to a smooth consistency, if desired. I usually only blend a few cups, leaving the rest of the soup chunky.
Served on its own or as a soupy stew over brown basmati rice or couscous, this dish is hearty and filling.
Pour into bowls and sprinkle with cilantro before serving. Bon appetit!
This soup gets even better on the second day, as the flavors develop.
[/tab] [/tabcontent] [/tabs]
---
For all my blending recipes I use Vitamix. If you don't already own a VitaMix, I strongly encourage you to check out what this machine is capable of! For more information about VitaMix you can go directly to the VitaMix website. You may also want to read my post about the Best Blender.
I LOVE my VitaMix and highly recommend investing in one if you are ready to make serious changes to your diet. I have had mine for almost 5 years and use it daily!
If you decide to purchase Vitamix – be sure to use Promotional Code 06-004554 to get free shipping.
---
Questions? Comments? Suggestions?
If you have a favorite recipe, why not submit it here in the comment section of this smoothie recipes blog for others to enjoy too!
I also welcome any comments, questions and suggestions. Thanks!