Dandelion Greens Recipes: How About Some Weeds In Your Green Smoothie?
Have you had your dandelions today?
For many people when they think of dandelions, their first thought is the weeds on their lawn. They view the common dandelion as a weed, and wage a small war to eradicate the plant from their lawns and gardens, but I want to encourage you to eat them!
Not everyone knows that dandelions are very healthy, and can be used in many recipes, including (of course) green smoothies.
Since they grow wild pretty much everywhere, you have a completely free food source right in your backyard or in the wild. Just don't use the ones with the pesticides and herbicides on them! For those without access to organic lawns, dandelion greens are also available in farmers markets.
Health Benefits of Dandelion Greens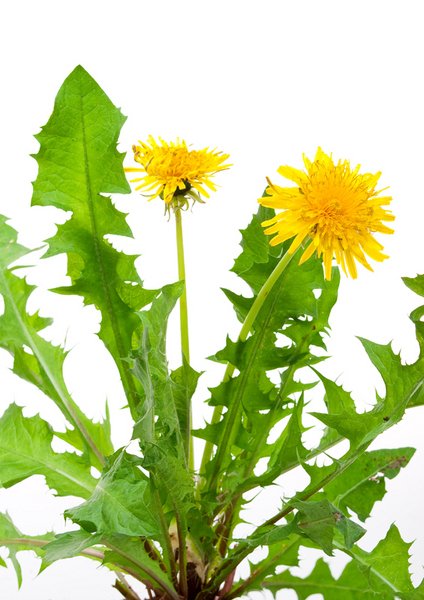 As all greens, dandelions are low in calories, but super-high in healthy nutrients, which makes them the ideal addition to green smoothies. In fact, this innocuous "weed" is one of the most nutrient-dense plants you can eat. Everything, from the flower all the way down to the roots, is edible.
Dandelions are great for detoxing the liver and gallbladder and to help support kidney function. They may help stabilize blood sugar (great for diabetics) and lower bad (LDL) cholesterol. They are also are an excellent source of vitamins A, C, E, K, calcium and iron, packed full of antioxidants, and contain copper, manganese, potassium, and magnesium. Just one half cup of dandelions contains more calcium than a glass of milk, and more iron than spinach. Studies have found that the regular consumption of dandelion greens can lead to a reduction in your risk of cancer and stroke.
The taste of dandelion resembles a slightly bitter green like arugula. Look for firm, fresh, tender, bright green leaves that aren't discolored or wilted. When refrigerated in a plastic bag, they will keep for a few days. Like spinach, dandelion greens are commonly enjoyed raw, but they also taste fantastic sautéed, braised, or even stewed.
You can toss them into your favorite salad medley, eat them fresh in salads, or cook them on the stove. Wash, trim, tear, and toss in your favorite salad medley. Sauté with garlic and onions. Substitute spinach for dandelion greens in recipes, such as pesto sauce.
Dandelion Green Smoothie Recipes
Dandelion greens have slightly bitter taste which might be difficult to mask with fruit in a green smoothie, so start with adding small amounts and/or mixing them with other greens, such as spinach or kale. In general, the younger the greens, the milder the taste, so you may want to choose the younger leaves.
You can help mask the bitter taste by using strong tasting fruit and berries, such as pineapple, oranges, bananas, strawberries or other ripe berries. The other way is to process them with some sort of fat, i.e. nuts, oils, and avocados.
Personally, I enjoy slight bitterness in my smoothies, especially since I know that it's so good for me! The bitterness actually stimulates bile production, aids digestion, and cleans pretty much every inner organ inside the body. I find that my taste buds get used to the flavor quickly and after the first couple sips and I soon don't mind the flavor at all. But I guess it's an acquired taste.
[tabs slidertype="top tabs"] [tabcontainer] [tabtext]Green Smoothie Recipe[/tabtext] [/tabcontainer] [tabcontent] [tab]
Dandelion Green Smoothie Recipe #1
1-2 cups dandelion greens
1-2 pears
2 dates
1-2 cups water or coconut water
Blend on the highest speed until smooth and creamy. Yield: 3-4 cups
Dandelion Green Smoothie Recipe #2
2 cups dandelion greens
1 lemon (peeled)
2 large apples
1 banana
1-2 cups water
Dandelion Green Smoothie Recipe #3
½ bunch dandelion greens
2 stalks celery
2 peaches
½ pineapple
½ inch fresh ginger root
2 cups water
Blend in blender until smooth! Enjoy!
Dandelion Green Smoothie Recipe #5
If you are worried about the fruit content, here are some savory options.
1/2 bunch dandelion greens
4 tomatoes
2 dates (optional)
2 cups water
Dandelion Green Smoothie Recipe #6
1/2 bunch dandelion greens
1 medium cucumber
½ avocado
2 dates (optional)
2 cups water
Blend in blender until smooth! Enjoy!
[/tab] [/tabcontent] [/tabs]
---
For all my blending recipes I use Vitamix. If you don't already own a VitaMix, I strongly encourage you to check out what this machine is capable of! For more information about VitaMix you can go directly to the VitaMix website. You may also want to read my post about the Best Blender.
I LOVE my VitaMix and highly recommend investing in one if you are ready to make serious changes to your diet. I have had mine for almost 5 years and use it daily!
If you decide to purchase Vitamix – be sure to use Promotional Code 06-004554 to get free shipping.
---
Questions? Comments? Suggestions?
If you have a favorite recipe, why not submit it here in the comment section of this smoothie recipes blog for others to enjoy too!
I also welcome any comments, questions and suggestions. Thanks!