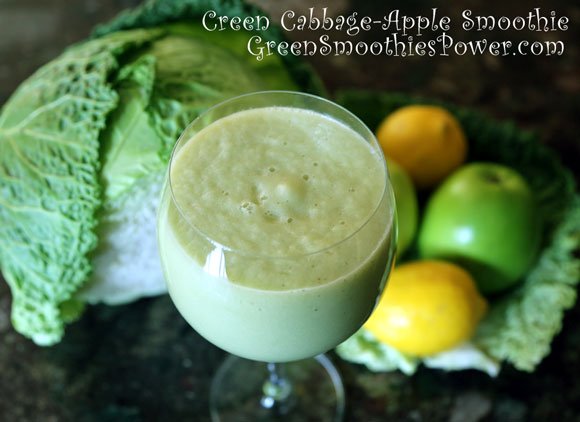 Green Cabbage-Apple Smoothie
I did not get the chance to run to the farmers market today, so – since I ran out of fresh leafy greens – I keep experimenting with the ingredients I have available at home, especially cabbage to make deliciously thick and filling, green smoothies.
These thick smoothie recipes I'm creating will come in handy when I start the "Green Thickies 7 Day Meal Replacement Green Smoothie Challenge" I signed up for today. (If you'd like to sign up for this challenge, go to Green Thickies website, it's going to be fun!).
This is totally weird, but I have this craving for cabbage smoothies lately.
So, here is another cabbage smoothie recipe for you. It's for a thick, meal-replacement type of smoothie, with apple and lemon, plus some oats (you can use quinoa or other cooked grain, if you prefer, to make the smoothie thicker).
These thick smoothies work great as breakfast smoothies, for example, when you want something more filling to keep you full longer.  They are also great for weight loss.
Green Cabbage-Apple Smoothie
Ingredients
2 cups green cabbage
1 banana
1 apple
1 lemon wedge
1 tablespoon almonds
1/2 cup oats
2 1/2 cups cold almond milk, coconut milk or filtered water

Optional Ingredients

a few dates, 1 teaspoon sweetener, or 1 packet of stevia, as desired
1 teaspoon cinnamon
Instructions
1. Place the ingredients into the pitcher of a high speed blender or Vitamix.
2. Blend on high until smooth.
http://greenreset.com/green-cabbage-apple-smoothie/
You may have noticed by now that I only recommend non-dairy milks in my green smoothies. Find out more about that here:
---
For all my blending recipes I use Vitamix. If you don't already own a VitaMix, I strongly encourage you to check out what this machine is capable of! For more information about VitaMix you can go directly to the VitaMix website. You may also want to read my post about the Best Blender.
I LOVE my VitaMix and highly recommend investing in one if you are ready to make serious changes to your diet. I have had mine for almost 5 years and use it daily!
If you decide to purchase Vitamix – be sure to use Promotional Code 06-004554 to get free shipping.
---
---
Questions? Comments? Suggestions?
If you have a favorite recipe, why not submit it here in the comment section of this smoothie recipes blog for others to enjoy too!
I also welcome any comments, questions and suggestions. Thanks!