Finally! Healthy Nutrition Made Easy: Learn How to Prepare Delicious Green Smoothies That Your Family Will Love!

If you are looking for easy healthy recipes and an super-easy way to add super-important nutrients to your everyday diet, you are truly lucky to have found this page!
Because what you will learn here – if you just try it and stick with it – will likely change your life and health for the better (really, I don't exaggerate one bit – because it happened to me a few years back).
Introducing…Green Smoothies
You may call them blended drinks, green shakes, green smoothies, green fruit smoothies, drinkable salads or salads straight from your blender. It doesn't really matter what you call them!
The fact is that if you are having problems with eating a healthy diet, and especially if you have picky-eaters in your house who will not eat a green vegetable if their life depended on it – this is a perfect solution to your problem.
The idea to blend various kinds of leafy greens, fruits and vegetables to create a liquid soup with a baby food consistency is not new. About 5 years ago that Victoria Boutenko (from the Raw Family) greatly popularized the concept of the Green Smoothie.
The Green Smoothie is essentially a blended salad made with fruits and leafy greens, with some optional water, blended at high speeds to smooth consistency. Generally, hard or savory vegetables such as carrots or tomatoes are avoided. Only fruits and leafy greens are included.
Many of you may cringe at the idea of adding spinach or kale to a fruit smoothie, thinking these greens belong to a salad or dinner side-dish and not in a sweet drink.
However, the fact remains that this is the EASIEST, FASTEST, and TASTIEST way to consume large amounts of greens on a regular basis.
Fact is, it's MUCH faster to drink the same amount of greens that it would take to prepare and consume (and that includes chewing properly) the same amount of greens, fruits and vegetables, than it would take to make them into a salad or other dishes and eat them.
Smoothies only take about a minute to prepare (with a good blender, such as Blendtec or Vitamix), and a minute or two to drink.
And, when you make a green smoothie, the smoothie making blender will do the chewing for your!
There is really no excuse not to have them!
Important: Quick preparation does not also mean quick consumption. Do not just gulp down the entire glass of smoothie quickly. It is recommended that you drink your smoothie SLOWLY – mixing it with your saliva for best digestion and assimilation of nutrients.
Benefits of Green Smoothies versus Green Juice
Drinking freshly made juices made from vegetables, greens and fruits is an excellent way to add important nutrients to your diet. However, just adding juices is not the ideal solution for at least two reasons.
One problem with juice is that it's too concentrated. If you add a lot of fruit and sweet vegetables (such as carrots), the juice will contain lots of sugar, not good for diabetics or people with candida problems. If you're making green juices from greens such as parsley, kale, etc. – you need to be aware consuming large amounts of them can be mildly toxic. So, while drinking a reasonable quantity of vegetable juice every day, such as 8 or 10 ounces is OK, but if you go beyond this amount, I believe you're not doing your body a favor.
Another problem with juice is that you leave behind the valuable fiber that slows down the absorption of nutrients and provides the feeling of fullness. Drinking a juice is not a "satisfying meal", although it may be a nice appetizer.
I used to do a lot of juicing in the past and I still try to do it, but let's face it – it is quite time consuming and really messy. My problem is over since I started making green smoothies. Making smoothies is a super easy way to eat lots of greens, and a great alternative to juicing. It is much faster, less messy, and you also get fiber in addition to juice, so you get that feeling of satiety.
How To Make A Smoothie?
Let's start with some great ingredients for your smoothie creations.
Great Ingredients For Your Green Smoothies
GREENS: kale, bok choy, chard, spinach, parsley, romaine lettuce, iceberg lettuce, mint, basil, cilantro, or other.
FRUITS: bananas, pears, apples, mango, strawberries, raspberries, blueberries, peaches, kiwi, pineapple, melon, papaya, watermelon, grapes, or other.
VEGGIES: cucumber, celery, avocado (small amount only).
Some fruit and green combinations you may want to try:
Spinach with bananas and strawberries
Spinach with apples, bananas, and some lemon or lime juice
Spinach, bananas, peaches, mango
Romaine lettuce with bananas
Romaine lettuce with cucumber and bananas
Romaine and celery with blueberries
Parsley and ripe pears
Parsley, celery, apple and pears
Add 1-2 cups of water and blend until smooth. Adjust proportions to your liking. Try to experiment with different greens and fruits. Fruits are added for sweetness, so make sure they are really RIPE, especially bananas. Beautifully ripened bananas look like this:
Okay, so I need to add more spinach here, but I really love sweet taste of bananas!
In the beginning, when you are just starting out with the green smoothies, you may want to add just a little bit of mild tasting greens (such as spinach), to let your taste buds get used to the taste. Start adding more greens of various kinds (many of them are stronger tasting) later on.
Greens to add to your smoothies: spinach, arugula, Swiss chard, dandelion, kale, collard greens, beet tops, and whatever else you can find in the store or in your garden. Young, tender greens are better. Iceberg lettuce, although not very green at all, can be used too.
This is what a green smoothie looks like: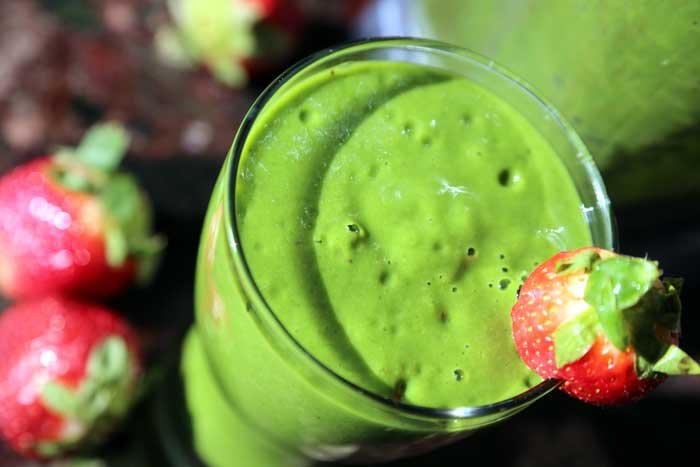 Don't be discouraged by the "greenness" of this drink. It tastes delicious, trust me on this!
Just try it for yourself, OK?
(Plus, if you really don't want the green color, you can easily make it into a purple or red smoothie by adding lots of mixed berries, and fewer green ingredients).
Green Smoothie Recipes
Here are more ideas for your delicious green smoothie creations. Feel free to adjust the quantity of ingredients:
Spinach-Apple-Banana
•1 head of spinach
•1 apple
•1 banana
•1-2 cups of water
Spinach-Raspberry-Strawberry
•1/2 head of spinach
•1/4 cup of raspberries
•1/2 cup of strawberries
•2 cups of water
Pinapple – Mango – Romaine
•1 small pineapple, peeled, cored, and chopped
•1 large mango, peeled, cored, and chopped
•½ head romaine lettuce
•a tiny piece of fresh ginger
You may want to add some water.
Personally I don't really love Romain in my smoothies, but sometimes it works well. You'll just have to try it for yourself. If you don't care for it, substitute a different green.
Kale – Banana – Berry
•2 leaves kale (kale is rather strong tasting, so you may want to start with less)
•2 bananas
•1 cup of strawberries or blueberries or raspberries
•1 cup of water
Apple – Mango – Lettuce
•5 pieces of green leaf lettuce
•1 ripe mango
•1 apple
•1 cup of water
One note here on using frozen fruits in your smoothies. Personally, I don't like smoothies that are really cold, so if I'm using a lot of frozen ingredients, I add some hot water to the mix to make them room- (or rather – stomach-) temperature. I know that many people like frozen drinks, but drinking a lot of frozen smoothies is not really that healthy, in my opinion.
I admit – I am totally hooked on green smoothies!
However, I never use exact recipes – I constantly experiment by adding different ingredients, depending on what sounds good to my body each day. Even thought some concoctions taste more delicious than others, I haven't been completely disappointed yet!
Now that you know how to make some basic easy healthy recipes for green smoothies, you can experiment with other variations on this theme. When you are ready, start incorporate other, stronger tasting greens into your smoothies.
Submit Your Smoothie Recipe!
When you find a taste you love, why not submit your favorite smoothie recipe in the comment section below!
Find more smoothie recipes and tips on my blog.
Finally! Healthy Nutrition Made Easy: Learn How to Prepare Delicious Green Smoothies That Your Family Will Love!

,