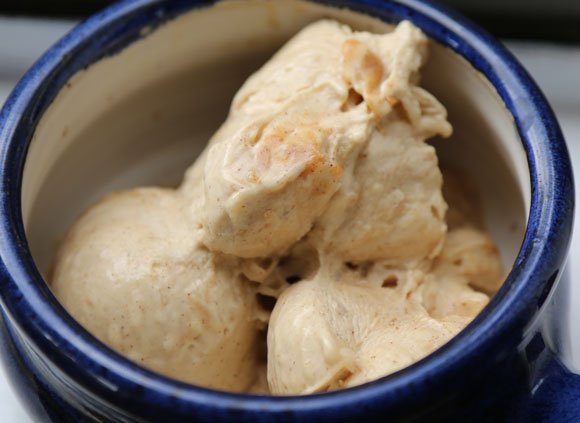 Homemade Ice Cream: 2 Super Easy Recipes (No Dairy or Ice Cream Maker Required!)
As the temperatures are rising, are you hungry for a delicious frozen treat that is healthy and nutritious?
I know my family is.
Everyone in our home loves ice cream, so I've decided to experiment with home-made frozen desserts that are actually good for you AND for the planet, and here are the results.
(Why do I bother with making ice-cream at home, when perfectly delicious concoctions can be bought at any convenience store and grocery store?  The answer is coming up soon….but for now – here are the recipes).
How to Make Ice Cream Without an Ice Cream Maker?
Ice cream makers are a fun and easy way to churn up frozen treats at home, however, most people don't own it (I don't), and I would never deem it a kitchen necessity. Single-tasking kitchen tools are a major pet peeve of mine, as they take up precious kitchen space, and usually get little usage.
So what's an ice-cream-lover to do (other than running to the nearest store)?
There are several methods to make ice cream at home, and the easiest one in my opinion is to use your Vitamix (or other high power blender) or food processor.
It's easy, it's simple and it only takes a few minutes and your frozen treat is ready.
Tips For Making Delicious Homemade Ice Cream
That ingredient that I use most often in homemade ice cream recipes, is banana! Ripe bananas, when frozen and blended up,  turn creamy instead of crumbly, with a smooth texture any home ice cream chef would love to have in their frozen treats.
The major tips can be summed up as:
Peel your bananas first.
Cut them into small pieces.
Freeze for a few hours on a plate.
Blend, blend, blend – scraping down the bowl when they stick.
Add other ingredients – frozen fruits, nut butters, nuts, chocolate powder, vanilla, cinnamon, etc. , and blend some more.
Scoop into bowls and top with sliced fruit or your favorite sauce.
Enjoy the magic moment!
[tabs slidertype="top tabs"] [tabcontainer] [tabtext]Desert Recipes[/tabtext] [/tabcontainer] [tabcontent] [tab]
Almond Butter-Banana Ice Cream
4 frozen very ripe bananas, cut into pieces
1/4 cup of almond butter
2 tablespoons agave nectar (or any other liquid sweetener)
1/2 teaspoon vanilla extract
pinch of sea salt
Combine all ingredients in a food processor or Vitamix and blend until smooth and creamy. Serves 4.
Make this dairy-free dessert tonight – it is amazing! It takes just 5 minutes to prepare and delivers tons of satisfaction for a little over 200 calories per serving!
[/tab] [/tabcontent] [/tabs]
[tabs slidertype="top tabs"] [tabcontainer] [tabtext]Dessert Recipes[/tabtext] [/tabcontainer] [tabcontent] [tab]
Banana Chocolate Cherry Ice Cream
3 frozen medium bananas
1 cup frozen organic cherries
5 dates, pitted
2 tablespoons organic virgin coconut oil
1 tablespoon vanilla extract
2 tablespoons raw cacao
pinch sea salt
In a food processor or blender (Vitamix or other), pulse dates, coconut oil, vanilla, and a pinch of salt into a thick paste. Add in cherries and bananas and blend until smooth. Eat immediately or freeze in covered container until firm, 2-4 hours. Serves 4.
[/tab] [/tabcontent] [/tabs]
It's best to consume all ice cream immediately. If you'd like to store some for later, I'd recommend to give it a good stir after the first 30 minutes in the freezer.
You can also freeze leftovers in an ice cube tray, transferring the cubes to a zip-top bag when frozen solid. To prepare the leftover ice cream, place the frozen ice cream cubes in a food processor, let them sit for a couple of minutes to soften slightly, and pulse until smooth and creamy.
---
For all my blending recipes I use Vitamix. If you don't already own a VitaMix, I strongly encourage you to check out what this machine is capable of! For more information about VitaMix you can go directly to the VitaMix website. You may also want to read my post about the Best Blender.
I LOVE my VitaMix and highly recommend investing in one if you are ready to make serious changes to your diet. I have had mine for almost 5 years and use it daily!
If you decide to purchase Vitamix – be sure to use Promotional Code 06-004554 to get free shipping.
---
Questions? Comments? Suggestions?
If you have a favorite recipe, why not submit it here in the comment section of this smoothie recipes blog for others to enjoy too!
I also welcome any comments, questions and suggestions. Thanks!