Lime-Oats Green Smoothie: Refreshing & Filling Breakfast Smoothie
My favorite smoothies are the ones with simple ingredients, usually just fruits and greens.
However, sometimes you just need something more substantial than that. One option is to have a bowl of cereal or a sandwich after my smoothie. But this involves another step – and more time spent in the kitchen.
That is why I decided to experiment with thicker, more substantial smoothies. I've been adding various ingredients, such as nuts, seeds, non-dairy milks or tofu. But when I stumbled upon GreenThickies.com website, it inspired me to try some new, yet easy-to-find ingredients, such as oats.
I just tried this Lime Smoothie recipe, and I have to say it's delicious.  It definitely tastes different than just-fruit-and-greens smoothie – it's thicker and you can definitely taste the oats.  I'm wondering what it will taste like with quinoa or brown rice (cooked) – I'll let you know when I try that combination.
I used one-minute-quick oats for this smoothie, without cooking or soaking.
This is a terrific breakfast smoothie recipe. Because it contains oats, it's more filling than just fruits-and-greens smoothie, so it will keep you full longer.
Lime-Oats Green Smoothie Recipe
This is a great breakfast smoothie recipe. Because it contains oats, it's more filling than just fruits-and-greens smoothie, so it will keep you full longer.
Ingredients
2 cups non dairy milk (use whatever you like or have in your kitchen: oat, rice, soy, almond, hemp, coconut, etc. )
2 bananas, fresh or frozen.
2 cups leafy greens (spinach, Swiss chard, kale, etc.)
1 handful of parsley
2 tablespoons sunflower seeds (or other seeds or nuts that you have). Pre-soaking your seeds and nuts is recommended, but not required.
¼ cup of dates (or any other dried fruit)
1 cup oats
Juice and zest of 4 limes
Instructions
Blend all ingredients on high speed to the desired consistency.
Add more liquid if the smoothie gets too thick.
Substitute any of the ingredients for whatever you already have.
http://greenreset.com/lime-oats-green-smoothie/
This recipe really came in handy, since I had a whole bag of limes sitting in my fridge for longer than I care to admit.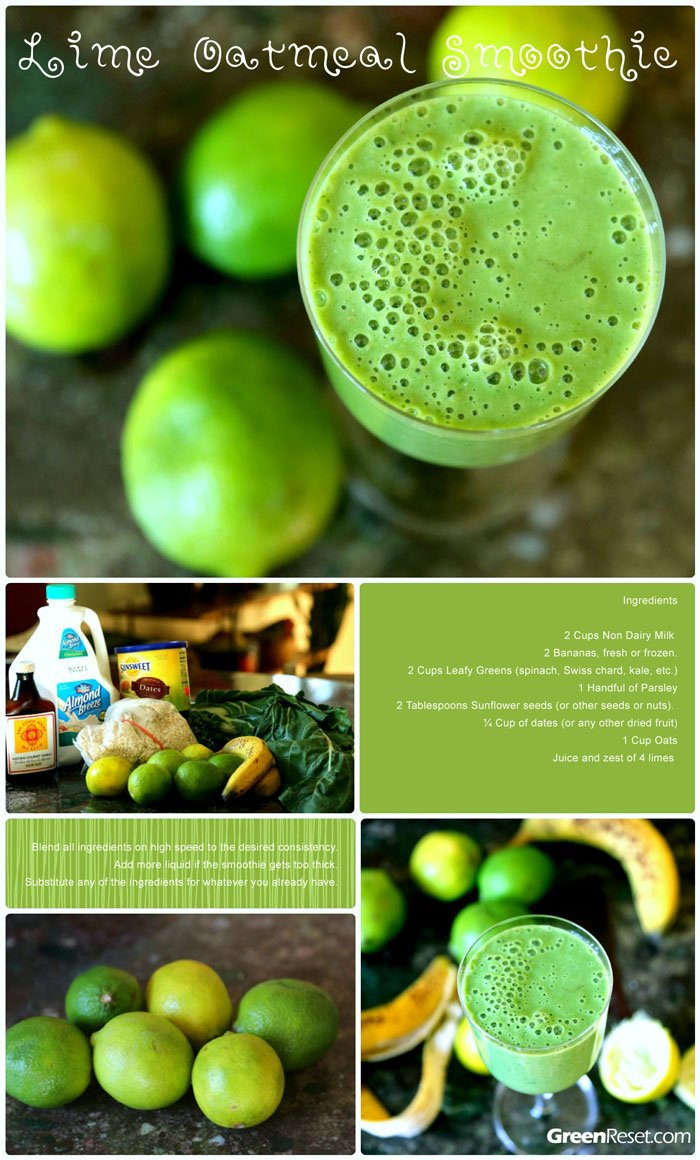 ---
For all my blending recipes I use Vitamix. If you don't already own a VitaMix, I strongly encourage you to check out what this machine is capable of! For more information about VitaMix you can go directly to the VitaMix website. You may also want to read my post about the Best Blender.
I LOVE my VitaMix and highly recommend investing in one if you are ready to make serious changes to your diet. I have had mine for almost 5 years and use it daily!
If you decide to purchase Vitamix – be sure to use Promotional Code 06-004554 to get free shipping.
---
Questions? Comments? Suggestions?
If you have a favorite recipe, why not submit it here in the comment section of this smoothie recipes blog for others to enjoy too!
I also welcome any comments, questions and suggestions. Thanks!