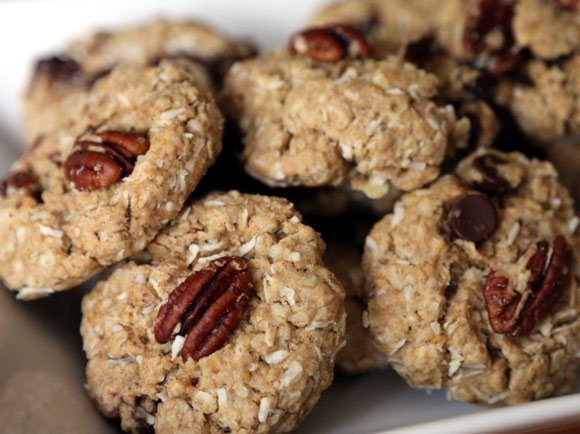 Oatmeal Chocolate Chip Cookies
Here is a decadent recipe for oatmeal chocolate chip cookies.
Some of you may object that it's not a super healthy recipe for people on extreme diets, as it includes all purpose flour and sugar, and oil, but we all deserve a treat once in a while, and this is certainly rectified by loads of healthful ingredients, such as oats and pecans (you can toss in more nuts if you like).
This is also a recipe full of compassion. As with all baking recipes, I'm making the cookies dairy and egg-free (read here why). Making egg free cookies is actually very easy and fast once you learn about some good egg substitutes for baking.
The recipe is inspired by a recipe from a delightful little vegan book "Vegan Cookies invade your cookie jar" by Isa Chandra Moskowitz and Terry Hope Romero.
Oatmeal Chocolate Chip Cookies
Ingredients
2 cups quick-cooking oats
2 cups all purpose flour
2/3 cup vegetable oil
¾ cup brown sugar, packed
¼ cup white sugar
1 teaspoon vanilla extract
1/2 teaspoon salt
1 teaspoon baking soda
1/2 teaspoon baking powder
1/2 cup nondairy milk
1 tablespoon ground flax seeds
1 cup chopped pecan pieces
½ cup vegan chocolate chips (or more 🙂
½ cup shredded coconut
Additional nuts and chocolate chips for decorating tops of cookies (optional)
Instructions
Preheat oven to 350F. Line tow baking sheets with parchment paper.
In a medium size bowl mix oats, flour, baking soda, baking powder and salt. Set aside.
In a large bowl, beat together oil, nondairy milk, sugar, flax seeds, and vanilla. Fold in the flour mixture, and add chocolate chunks, and pecans. Don't overmix. The dough will be thick and sticky.
For each cookie, drop 1/4 cup dough onto cookie sheets. Flatten slightly. Bake at 350F for 15 to 20 minutes, until edges begin to brown. Let the cookies rest for 5 minutes. Enjoy!
Yield: 2 to 3 dozen.
http://greenreset.com/oatmeal-chocolate-chip-cookies/
Questions? Comments? Suggestions?
If you have a favorite recipe, why not submit it here in the comment section of this blog for others to enjoy too!
I also welcome any comments, questions and suggestions. Thanks!