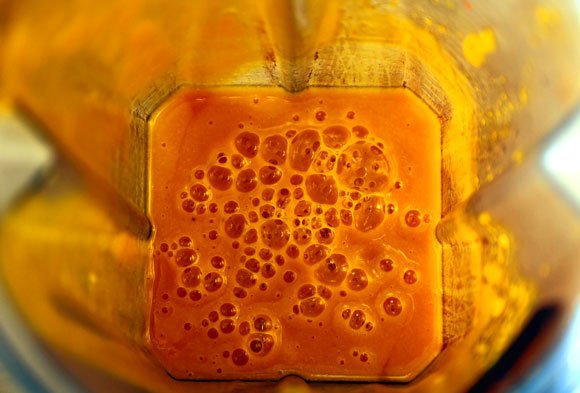 Spiced Pumpkin Smoothie Recipe
With all the leaves changing colors I get inspired into creating recipes that match my surroundings. This means that pumpkins and squashes are on the menu regularly. Soups and stews are two types of recipes that come to mind, but what about a pumpkin or squash smoothie?
Have you ever tried a pumpkin or a squash smoothie?
They are quite delicious and perfect for this time of year.
What's interesting to know is that all winter squashes and pumpkins are actually fruits and can be eaten raw. They can be a bit tough, though, we eat them roasted, puréed, mashed into soups or used as stuffing for bread and cakes.
Besides the pulpy flesh, the seeds and skin are also edible. The seeds can be eaten directly raw, or they can be roasted, ground into paste or pressed for vegetable oil.
Spiced Pumpkin Smoothie Recipe
This delightful pumpkin smoothie recipe is like chilled pumpkin pie in a glass, but without the unhealthy fats and excess calories.
This thick and creamy smoothie makes a delicious and filling liquid breakfast, snack or dessert. It will get you ready for the fall and holiday season!
Use very ripe bananas (with brown spots), preferably frozen to give this pumpkin smoothie a thick texture, and sweeten it according to your preference.
Spiced Pumpkin Smoothie Recipe
Ingredients
2 cups unsweetened vanilla almond milk
1 cup pumpkin puree (you can use canned, but fresh is better)
2 ripe bananas, fresh or frozen
1/3 cup fresh orange juice
2-3 dried dates, presoaked (or a handful of raisins)
1/2 teaspoon ground cinnamon
1/8 teaspoon ground nutmeg

Optional Ingredients

1 teaspoon fresh ginger, finely minced
1/2 cup ice cubes (if you like a cold smoothie and not using frozen banana)
Instructions
Add all of your ingredients to the blender. Puree until very smooth and creamy.
If your pumpkin and/or almond milk isn't cold, you could add a handful of ice. I decided not to, so it would stay as creamy as possible. You can also add a splash of water or additional almond milk if your smoothie is too thick. Top with a sprinkle of cinnamon and/or nutmeg.
Notes
Squash puree will also work for this recipe, for example, kabocha or butternut.
http://greenreset.com/pumpkin-smoothie-recipe/
Variations
This recipe works beautifully with a squash puree too. I tried acorn and kabocha and they were both delicious. Raw squash or pumpkin can be used, too. You can play around with the flavors easily by adding some vanilla extract or pumpkin or apple pie spice instead of just cinnamon.
add 1 cup of mild greens, such as spinach (if you are not going for a bright orange wow-factor)
add 1 tablespoon of ground flax seeds
add more water/non-dairy milk, or to desired consistency
add 1/4 cup of raisins instead of dates
If using dry ingredients, blend them with liquid first until smooth. Then add the rest of ingredients and blend on high until smooth and creamy. (High speed blenders may need 2 minutes, less powerful blenders may need a lot more, sometimes 5-10 minutes).
---
This recipe is Vegetarian, Vegan, Dairy free, Egg free, Refined sugar free, Wheat free, Soy free (if not using soy milk), Nut free, Gluten free, and Sodium free. Please use only non dairy milk in your smoothies! Even this doctor and doctors at PCRM.org will tell you so!
There are many non-dairy, cruelty-free sources of calcium – check them out here.
---
For all my blending recipes I use Vitamix. If you don't already own a VitaMix, I strongly encourage you to check out what this machine is capable of! For more information about VitaMix you can go directly to the VitaMix website. You may also want to read my post about the Best Blender.
I LOVE my VitaMix and highly recommend investing in one if you are ready to make serious changes to your diet. I have had mine for almost 5 years and use it daily!
If you decide to purchase Vitamix – be sure to use Promotional Code 06-004554 to get free shipping.
---
---
Questions? Comments? Suggestions?
If you have a favorite recipe, why not submit it here in the comment section of this smoothie recipes blog for others to enjoy too!
I also welcome any comments, questions and suggestions. Thanks!