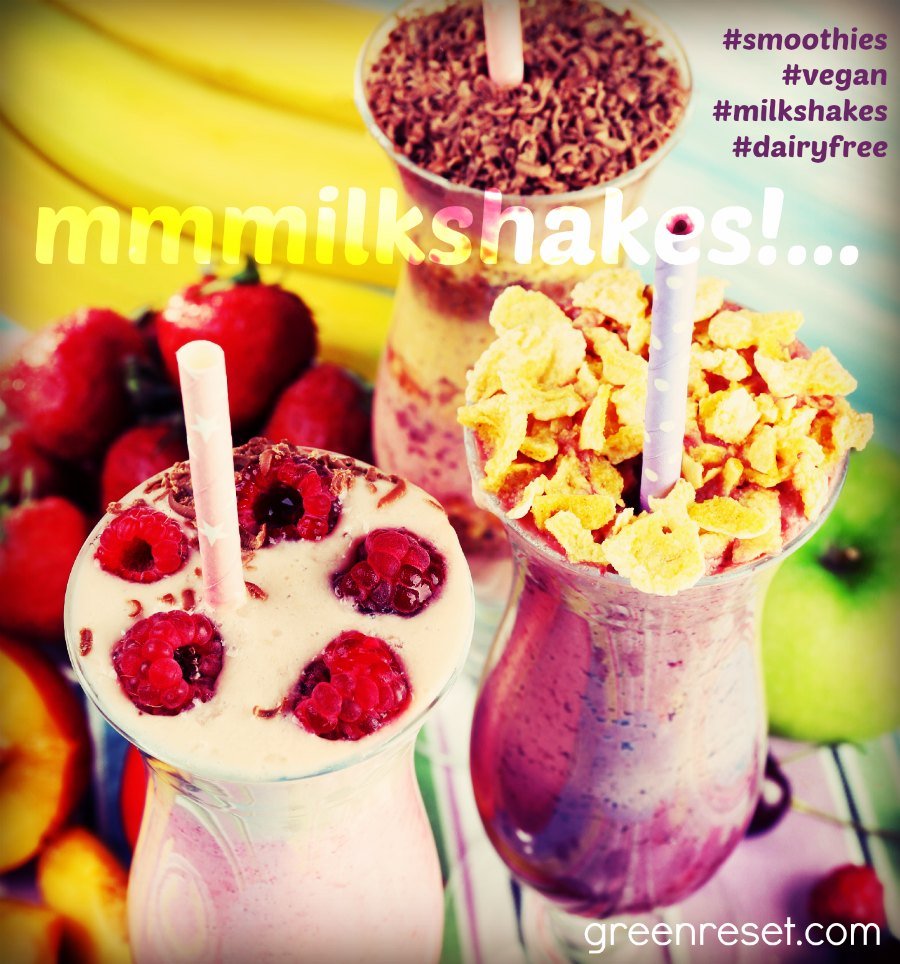 Mmmmilkshakes! How to Make A Milkshake Without Milk (Delicious, Dairy-Free Recipe)
If you love milkshakes, then you will not believe how much this this delicious MILK-FREE recipe will taste like a dairy-rich, sugar-sweetened, artery-clogging shake!
Serve this to your milkshake-loving friends and they'll not believe it doesn't have any dairy in it.
When I was a child, milkshakes were special treats in my family. Oftentimes, we don't crave a food because of the taste; we're really just longing for a familiar emotion that once comforted us. Well, this milkshake recipe definitely fulfills the emotional memory I have from childhood. But, it tastes even better (no kidding, you've just got to try this!).
Basic Shake Recipe
Ingredients:
4 large bananas, frozen
1/2 cup raw almonds
2 tablespoons agave nectar (or other sweetener)
1 cup ice (more or less)
1 cup water (or more, if too thick)
a pinch of sea salt
Variations:
For a CHOCOLATE shake, add 2 tablespoons raw cacao powder (or carob powder)
For a STRAWBERRY shake, add 3/4 cup fresh or frozen strawberries (use less ice if berries are frozen)
Other fruits that will work great include: peaches, raspberries, blueberries, and other — whichever is your favorite!
Use any plant-based milk instead of almonds and water.
Toppings: pieces of fruits, crushed nuts, vegan cookies, etc.
Directions:
Make sure your bananas are well frozen (for a minimum of 24 hours!!!). This is really a key factor in achieving the perfect ice-creamy texture.
Place all ingredients in your blender container (Vitamix or other high speed blender is best) and mix on high until a smooth, milkshake consistency is reached.
If you're on a low-fat diet, you may skip the almonds or only use a few to taste.
Milkshakes are the ultimate drink when it comes to comforting, refreshing treats. What could be better than a thick, creamy shake in a frosty glass? There are many non-dairy alternatives to make your vegan shake as rich and satisfying as ever. Let's look at some of the delicious options…
Ingredients for Plant-Based (Vegan) Milkshakes

Plant milks. Almond, rice and soy milk does not have as high a fat content as coconut milk, which is nice if you're trying to cut down on fat grams. And there are a number of flavor options, such as vanilla, chocolate, sweetened and unsweetened, so you can play with your favorites.  
Nut butters. Peanut butter, cashew butter and almond butter taste terrific in shakes and both go particularly well with the malt powder flavor. Nut butters thicken a shake, adding protein and nutrients such as calcium, iron and magnesium.  
Flavor extracts. Vanilla, maple, almond, lemon, peppermint, cinnamon, cocoa powder… there are many flavor extracts you can use to add tantalizing twists to a shake. Purchase flavor extracts that are all natural with no synthetic or imitation flavors or mysterious ingredients.
Malt powder. This tip I found on EarthBalance website. Malt powder is a germinated grain (usually barley). It has no added sugar but the sugar or syrup from your other shake ingredients should be enough. You can order malt powder online or buy at some specialty stores. Lookout for malted milk, which is not vegan.
Please, pretty please, only use plant-based, cruelty-free milks in your milkshakes – check them out here:
Please use only non dairy milk in your smoothies! Even this doctor and doctors at PCRM.org will tell you so!
---
For all my blending recipes I use Vitamix. If you don't already own a VitaMix, I strongly encourage you to check out what this machine is capable of! For more information about VitaMix you can go directly to the VitaMix website. You may also want to read my post about the Best Blender.
I LOVE my VitaMix and highly recommend investing in one if you are ready to make serious changes to your diet. I have had mine for almost 5 years and use it daily!
If you decide to purchase Vitamix – be sure to use Promotional Code 06-004554 to get free shipping.
---
Questions? Comments? Suggestions?
If you have a favorite recipe, why not submit it here in the comment section of this smoothie recipes blog for others to enjoy too!
I also welcome any comments, questions and suggestions. Thanks!