Tahini Berry Green Smoothie Recipe: Fights Flus, Colds and Boosts Fertility
Even though I make a Vitamix-pitcher-full of smoothie (or two) every morning for myself, my son and my husband, I rarely make the exact same recipe twice.  I have a basic formula that I follow, but the rest depends on what greens, fruits, seeds, and nut milks I have in my kitchen.
Lately, I have been drinking lots of really creamy smoothies, with oats and peanut butter. However, if you don't love peanut butter in your smoothie (my husband doesn't), or perhaps are allergic to peanuts, a wonderful alternative to peanut butter is …. tahini.
So, this was one of those mornings where I was filling the blender up with the ingredients, and the jar of tahini caught my eye and I ended up with a really delicious concoction: a Tahini Berry Smoothie.
It so happens that sesame seeds – the main ingredient in tahini; contain important B Vitamins…B1, B2, B3, B5, as well as a great supply of calcium. They also have beneficial trace elements like copper, magnesium, iron, phosphorus and manganese, as well as both omega 3 & 6 that improve the health of the brain. And let's not forget zinc,  a powerful immune strengthening nutrient that can be added to smoothies to fight colds and flus.
Just what the doctor ordered for the winter season!
Tahini Berry Green Smoothie Recipe

Ingredients:
2 bananas
1 cup frozen berries (mine were cherries, strawberries, blueberries, and raspberries)
3 handfuls spinach
2 tablespoons tahini
1 1/2 cups almond milk (or more or less depending on how thick you like it)
Method: Blend until smooth and creamy. Enjoy!
You can also simply add unhulled sesame seeds to your smoothie, and blend all ingredients really well. Unhulled seeds are better, because they provide more nutrients.
Sesame Seeds and Other Food Sources of Zinc
Sesame seeds, sunflowers seeds and pumpkin seeds are all excellent sources of zinc.  Zinc is an essential mineral that plays an important role in immune function. It is a nutrient that many people are bordeline deficient in. Zinc deficiency increases susceptibility to infection.
According to dr. Fuhrman, there is considerable evidence to suggest that regular supplementation with zinc or deliberate consumption of foods rich in zinc is useful to improve  immune function and fight off both infections and cancer.
If you are serious about your health and boosting your immune system, then check out his book:
Super Immunity: The Essential Nutrition Guide for Boosting Your Body's Defenses to Live Longer, Stronger, and Disease Free
Simply put, zinc decreases the duration of colds and flu, and the severity of common cold symptoms, but regular zinc use also works to PREVENT colds, leading to fewer absences and less antibiotic use in children.
Zinc is also key factor in making many parts of the reproductive system work properly.
The RDI (recommended daily intake) for zinc is 15 milligrams a day.
Raw, unhulled sesame seeds, 2 oz – 4.4 mg
Raw or roasted pumpkin seeds, 2 oz – 4.2 mg
Raw pine nuts, 2 oz – 3.6 mg
Raw cashews, 2 oz – 3.2 mg
Raw sunflower seeds, 2 oz – 2.8 mg
Tahini, raw, 2 tbsp – 1.4 mg
Other foods rich in zinc include:
Adzuki beans, cooked, 1 cup – 4.1 mg
Wild rice, cooked, 1 cup – 2.2 mg
Edamame, cooked, shelled, 1 cup – 2.1 mg
Black beans, kidney beans, cooked, 1 cup -1.9 mg
Shiitake mushrooms, cooked, 1 cup – 1.9 mg
Fava beans, cooked, 1 cup – 1.7 mg
Broccoli, cooked, 2 cups – 1.6 mg
Kale, cooked, 2 cups – 1.2 mg
You can buy tahini or organic unhulled sesame seeds on Amazon and add them to your smoothies and other recipes: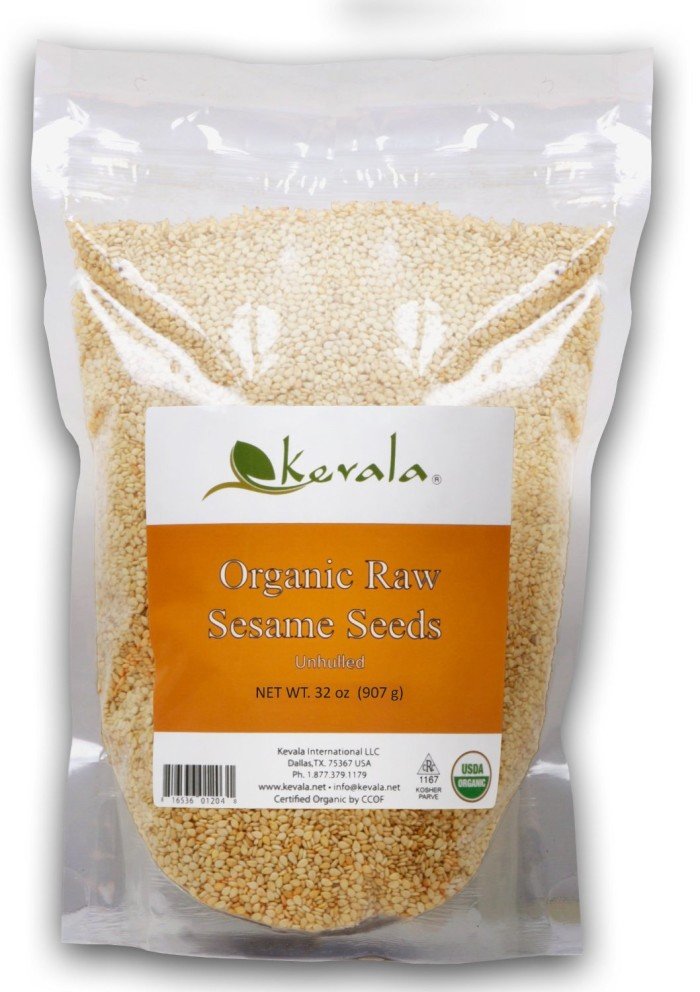 Kevala Organic Raw Sesame Seeds 2Lbs
---
For all my blending recipes – including smoothies, soups, nut butters and milks, I use Vitamix. If you don't already own a VitaMix, I strongly encourage you to check out what this machine is capable of! For more information about VitaMix you can go directly to the VitaMix website. You may also want to read my post about the Best Blender.
I LOVE my VitaMix and highly recommend investing in one if you are ready to make serious changes to your diet. I have had mine for almost 5 years and use it daily!
If you decide to purchase Vitamix – be sure to use Promotional Code 06-004554 to get free shipping.
---
Questions? Comments? Suggestions?
If you have a favorite recipe, why not submit it here in the comment section of this smoothie recipes blog for others to enjoy too!
I also welcome any comments, questions and suggestions. Thanks!