Perfect Breakfast & Brunch: Green Smoothie + Veggie Scramble with Tofu
Today I want to share with you this recipe for a veggie-tofu scramble.
It's a perfect follow-up to a green smoothie on a lazy Sunday morning. I usually have a smoothie first thing when I get up, and then about 11-12AM I'm ready for another smoothie, or something more substantial.
The recipe that I'm going to share with you today is a perfect breakfast/brunch or even lunch dish, that is healthy, low in fact, and cholesterol free. It does take about 20 minutes to prepare, so you'll probably want to prepare it on a weekend, when you are not rushing. But first some pictures of my smoothie….(yum…)
As you see, I put in a little bit of tofu into a smoothie, which I don't do very often, but have tried a couple of times recently, just to try it. It was really good, and I could even tell it was there.
Veggie Scramble Recipe (with Tofu)
If you don't love tofu, you are certainly not alone. For me, it certainly wasn't the love at first bite, if you know what I mean ;-).
I've really only recently started to experiment with this ingredient, and the beginnings have been less than satisfying.
However, as I experiment more and more, I learned that it's worth to try different brands and types of tofu, as they each are slightly different. I have to say – I'm loving the tofu I bought last week at Trader Joe's. The silky tofu is just to die for in deserts (such as this chocolate mousse), and the super firm one that I tried this morning in my veggie-tofu scramble is not too shabby either.
Part of the success of the tofu scramble may be in the recipe. I used Isa Moscowitz' recipe from the "Vegan Brunch" book.
If you think of tofu scramble as a bland, boring dish, that's a sad substitute for an egg-scramble; you'll be pleasantly surprised. Isa's tofu scramble is by no means bland, bursting with flavor and aroma. You won't miss eggs, I promise! (Unless you are a die-hard meat-and-dairy eater like my husband, that is).
How to Cook Tasty Tofu Scramble: Low Fat, Low Calorie, Low Cholesterol Recipe Perfect for Breakfast or Brunch
Ingredients
2 tsp ground cumin
1 tsp dried thyme, crushed with your fingers
1/4 tsp ground turmeric
1/2 tsp salt
3 Tbsp water
2 Tbsp olive oil (optional, I like to simply sautee in a little bit of water, but maybe if you want to really brown the tofu, you can use some olive oil)
3 garlic cloves, minced (I used more, just because I like it)
1 onion, chopped
1 lb firm or extra firm tofu, crumbled
1/4 cup nutritional yeast
Fresh black pepper to taste
Instructions
Mix the spices (cumin, thyme and turmeric and salt) together with the water in a small cup.
Preheat a large, heavy-bottomed pan over medium-high heat.
Sauté the garlic in olive oil for about a minute.
Break the tofu apart into bite-size pieces and sauté with the garlic for about 10 minutes, stirring often.
Get under the tofu when you are stirring, scrape the bottom, and don't let it stick to the pan. Isa recommends using a thin metal spatula to get the job done.
The tofu should slightly brown on at least one side.
The water should cook out of it and not collect too much at the bottom of the pan. If that is happening, turn the heat up and let the water evaporate. Conversely, if the scramble seems dry add splashes of water until it's nice and moist.
Add the spice blend and mix to incorporate. Add the nutritional yeast and pepper. Cook for about 5 more minutes. Serve immediately.
Notes
Total Prep And Cook Time: 20 Minutes Serves 4 - 6 Nutrition Data Per 117g Serving: 107 cal, 3g carb, 7g fat, 251mg sodium, 1g fiber, 11g protein, low Cholesterol, good source Calcium, Iron, Magnesium, Phosphorus, Copper, Selenium and Manganese.
http://greenreset.com/tofu-veggie-scramble/
Scramble Variations and Add Ins
You can include these additions to your scramble by themselves or in combination with one another:
Potatoes: Cook 1-2 potatoes, cubed, in water until almost tender. Strain and add to tofu to brown on the skillet.
Mushrooms: Chop the mushrooms and add to tofu.
Onions: Chop 1 small onion. Add along with the garlic and cook for about 5 minutes, until translucent. Proceed with recipe.
Red Bell Peppers: Remove stem and seeds and finely chop 1 red bell pepper. Add along with the garlic and cook for about 5 minutes. Proceed with recipe.
I wanted to make a scramble with potatoes, so I cooked 2 small potatoes, cubed, and added them to the tofu to brown with the spices. I also had wanted to make a veggie scramble separate from the tofu (I wanted to add A LOT of veggies), so I sauteed them in a separate pan. I used some garlic, onion, mushrooms, zucchini, red pepper and spinach. I didn't use the same spices as for the scramble. I only added a bit of tamari sauce and pepper. I served it together with tofu.
It was a delicious and very satisfying brunch!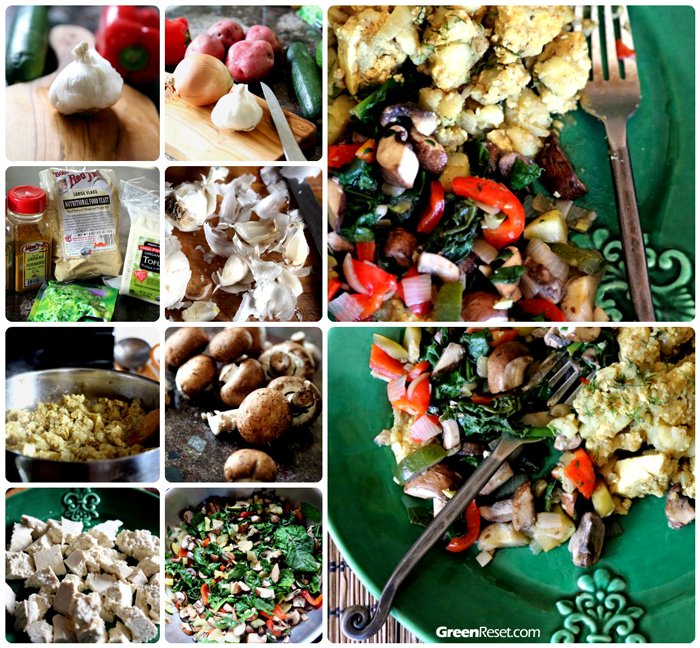 This scramble recipe is really satisfying and very versatile. Try it for brunch, lunch or casual dinner; on Sunday, Monday, Thursday or Friday :-). (Or any other day, really).

4 Tips For Tofu Scramble Success
Here are some more tips on how to make tasty tofu scrambles from Christy Morgan, author of Blissful Bites.
1. What type of tofu is best for scrambles?
To make the best tofu scramble, choose extra firm tofu.
2. How do you prepare the tofu before cooking it?
First, remove tofu from the package and wrap it in a paper towel. Then, wrap it in a dish cloth. Place wrapped tofu between two cutting boards with a few heavy books on top. Press for about 15 minutes. You'll notice the water draining out of the tofu.

3. What do you do after you press it?
Use your hands to crumble the tofu into a bowl; toss with spices (ground turmeric will give your scramble a golden hue), nutritional yeast, and a few dashes of tamari or soy sauce. Mix until well-coated. Let mixture sit for 10 minutes while you prep the veggies.
4. How do you prep, cook, and integrate the veggies into the scramble?
Saute the veggies in a touch of oil or veggie broth until just tender. Set aside. In the same skillet, brown tofu, then fold in the veggies. I like zucchini and fresh corn in the summer; mushrooms, bell pepper, and broccoli anytime of year; and sun-dried tomatoes, collard greens, and pesto in the fall. (Via Vegetarian Times)